Dry or Damaged Skin?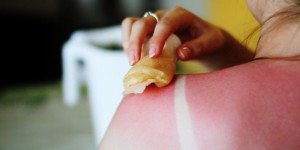 Summer means sun, shorts, sandals, bathing suits, and bronzed skin.  Sun exposure is, essentially, subjecting yourself to sun damage.  Of course it is practically impossible to avoid the outdoors altogether but taking preventative measures can make a huge difference. Sun exposure isn't necessarily bad – it is a key source of Vitamin D. As with all good things, however, keep exposure in moderation. The ideal maximum is 15 minutes before 10 a.m. or after 2 p.m. Anything over is considered overexposure, and any exposure during midday – when the sun is at its harshest – should be limited (if not altogether avoided).
With the warmer weather you are sweating more and your skin is less supple.  In addition salt water and chlorine have a drying effect.  Sunburns and bug bites are also saboteurs of healthy skin.
Dry Hair?
We all hear time and time again that the sun can be harmful to our skin but often forget that the warmer seasons with exposure to sun, salt water, and chlorine chemical residues can come together to cause damage to our hair.
There's a protective coating on hair called the hydrolipidic film; if you have dry hair, that film is broken down somewhat and when you add sun, salt water, and chlorine, you can destroy the film altogether. The result is that moisture located deep in the core of the hair shaft evaporates.  Hair looks, feels, acts, and actually is, crying out for moisture. Hair will have a dry look and feel, but can also be frizzy, unmanageable, have problems holding a curl or style, and even take longer to dry. In its worst form damage causes the ends of the hair to split, and breakage can begin.
Like skin, hair is comprised of proteins that need moisture to function. But, unlike skin which has its own supply of moisture from within, when hair's moisture is lost it is gone and dead.
If you sit down with any teacher, they can
you could try there
tell you the great things they're doing

Print this Post